Teacher and farmer disappeared and tortured in 2003-2005
FACTS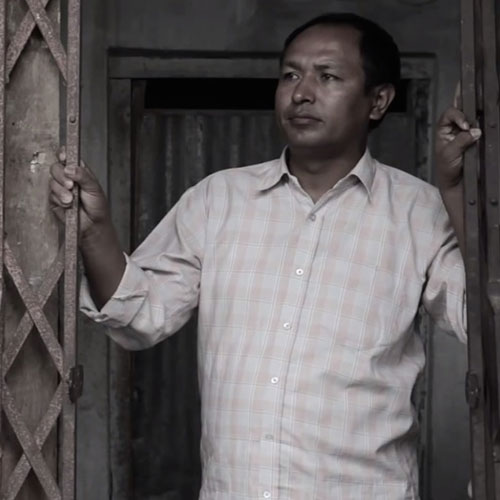 In November 2003, members of the Royal Nepal Army dragged Dev Bahadur Maharjan, a teacher and farmer, from his house in the middle of the night. He was held illegally until January 2005, and for nearly a year his family did not know whether he was dead or alive. Dev Bahadur Maharjan was beaten severely during interrogations, forced to watch the execution of an inmate, and subjected to horrific conditions of detention, including almost continual blindfolding and hooding.
Read more: here
Procedure
Dev Bahadur Maharjan was only released from detention after his sister filed a petition for habeas corpus in the courts. Dev Bahadur Maharjan remains unable to file a criminal complaint of torture or enforced disappearance in Nepal, as these are not considered crimes under Nepali Law. He made a complaint to the National Human Rights Commission of Nepal, but no investigation was undertaken.
In 2008, Dev Bahadur Maharjan took his case to the Human Rights Committee, represented by Advocacy Forum Nepal and supported by REDRESS. The Human Rights Committee reached a decision in July 2012.
It found that Dev Bahadur Maharjan was a victim of illegal detention, enforced disappearance and torture at the hands of the Royal Nepal Army. In addition, it found that the anguish and distress caused to his family by the disappearance also violated the prohibition of torture and other ill-treatment.
Read the decision: English Nepali
RECOMMENDATIONS
The Human Rights Committee recommended that Nepal carry out a thorough and diligent investigation and prosecute and punish those responsible. It also recommended that Nepal provide Dev Bahadur Maharjan and his family with adequate compensation. In addition, it called on Nepal to criminalise torture and to repeal all laws granting impunity to those alleged responsible for torture and enforced disappearance. Nepal is also under an obligation to prevent similar violations in the future, and must translate and disseminate the decision.
| | |
| --- | --- |
| Investigation of the facts | B2 |
| No criminal investigation has been carried out. Instead, the Government has said that the case will be considered by the non-judicial transitional justice mechanisms. | |
| Prosecution of perpetrators | B2 |
| No person has been prosecuted in relation to the crime. | |
| Provision of adequate compensation | B2 |
| The government has only provided Dev Bahadur Maharjan with a small payment of "interim relief", which is not commensurate with the gravity of the violation or losses suffered. | |
| Amendment of legislation | B2 |
| Although a Bill was introduced to criminalise torture, this has not yet been passed and laws allowing impunity for torture and enforced disappearance remain in place. | |
| Prevention of similar violations | B2 |
| Torture and enforced disappearance have still not been criminalised and laws allowing impunity for torture and enforced disappearance remain in place. | |
| Protection from reprisals | B2 |
| Dev Bahadur Maharjan is not known to have been subjected to reprisals, although his representatives are not aware of any particular measures being taken to mitigate any potential risks. | |
| Translation & dissemination | B2* |
| The Government has translated the views but these have not been disseminated beyond publication on the website of the Prime Minister's Office. | |
* Note these are unofficial gradings as the Human Rights Committee has not yet commented on implementation
EFFORTS FOR IMPLEMENTATION
Shadow Report to UN Human Rights Committee on Implementation, February 2014 (English)
Meeting between Dev Bahadur Maharjan's representatives and the Government to discuss his case
Letters to the Human Rights Committee July 2014
Meeting with Human Rights Committee November 2015