Journalist and human rights lawyer survivor of torture and enforced disappearance
FACTS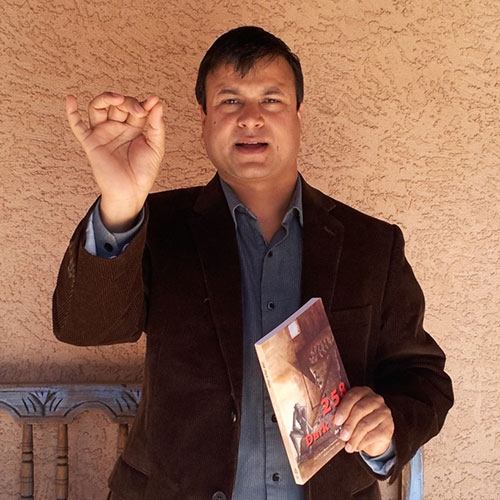 On 4 February 2004, journalist and human rights lawyer, Jit Man Basnet, was arrested by security forces in front of his home and brought to a detention camp know as Bairabnath Battalion Barracks, notorious for its implication in the arrest, illegal detention, torture, extrajudicial killing and disappearance of hundreds of persons suspected of affiliation with the Maoists. Detained in inhuman conditions for 258 days, blindfolded, handcuffed, and tortured extensively, he was finally released on 18 October 2004, forced to sign a false confession and papers stating that he had only been detained for a limited period of 90 days, and strictly forbidden to disclose the existence of the facility in which he was held.
Read more: here
Procedure
A habeas corpus writ was filed with the Supreme Court requesting the authorities to disclose Jit Man Basnet's place of detention and release him, but the Royal Nepalese Army denied claims that he was being held in military detention. Jit Man Basnet's cousin, Top Bahadur Basnet, submitted a request for investigation into his cousin's disappearance to the National Human Rights Commission of Nepal (NHRC). Upon release, Jit Man Basnet filed an additional petition seeking compensation, in which the NHRC concluded that he had been illegally detained and subjected to torture. However, in January 2005, the NHRC subsequently disclosed Jit Man Basnet's name in a report, identifying him as a source of information. As a result, Jit Man Basnet received death threats on several occasions. Subsequent petitions to the Supreme Court were dismissed or denied and his request for compensation remains unanswered.
In February 2011, Jit Man Basnet and his cousin took their case to the Human Rights Committee, represented by TRIAL. The Human Rights Committee reached a decision in October 2014.
It found Nepal's detention and treatment of Jit Man Basnet, which in certain cases amounted to torture, were in violation of international law. The anguish and distress suffered by his cousin, as a result of not knowing Jit Man Basnet's fate and whereabouts, with whom he had a very close formal and familial relationship and in taking on responsibility as the head of the family in Jit Man Basnet's absence in certain circumstances also amounted to a violation of the prohibition of torture and ill-treatment.
After his release, Jit ManBasnet wrote a book entitled: "258 Dark Days". The book is available here.
Read the decisions here: English
RECOMMENDATIONS
The Human Rights Committee recommended that Nepal carry out a thorough and effective investigation of the facts and prosecute and punish those responsible. It also recommended that Nepal provide adequate compensation, as well as psychological rehabilitation and medical treatment, to Jit Man Basnet and his cousin, provide appropriate measures of satisfaction and avoid similar violations in the future. In addition it is required to translate the Human Rights Committee's decision and distribute it widely.
| | |
| --- | --- |
| Investigation of the facts | C1 |
| No criminal investigation has been carried out. Instead, the Government has said that the case will be considered by the non-judicial transitional justice mechanisms. | |
| Prosecution of perpetrators | C1 |
| No person has been prosecuted in relation to the crime. | |
| Information on investigation | C1 |
| No investigation has been initiated and no information has been provided | |
| Providing adequate compensation | C1 |
| The government has identified the Ministry of Peace and Reconstruction as the relevant authority to 'immediately provide interim relief'. However, no compensation has been granted and the amount suggested does not commensurate the gravity of the crimes at stake. | |
| Providing psychological/medical treatment | No information |
| The Human Rights Committee has not received any information from the government regarding this remedy. No psychological or medical treatment has however been provided. | |
| Measures of satisfaction | C1 |
| No apology or memorial has been provided. | |
| Non-repetition | C1 |
| No amendments have been made to Nepal's domestic legal framework in an effort to criminalise enforced disappearance and torture in accordance with international standards. The Office of the Prime Minister and the Council of Ministers are said to be in charge of drafting a law to criminalise acts of enforced disappearance. A draft Bill currently pending before Parliament would criminalise torture, but is not in line with international standards. | |
| Translation and dissemination | B2 |
| The Human Rights Committee has not received any information from the government regarding this remedy. The Government has translated the views but these have not been disseminated beyond publication on the website of the Prime Minister's Office. | |
EFFORTS FOR IMPLEMENTATION
Numerous letters sent to the Office of the Prime Minister, the National Human Rights Commission, the Ministry of Peace and Reconstruction, the Office of the Attorney General, the Ministry of Law and Justice, and the Ministry of Peace and Reconstruction, on February, and September 2015
Meeting of Mr. Basnet's legal representatives with representatives of the Office of Prime Minister, Ministry of Peace and Reconstruction, Ministry of Law and Justice, Office of the Attorney General and National Human Rights Commission, on February, September, October and November 2015
Follow-up report to the Human Rights Committee, October 2015
Meeting of Mr Basnet's legal representatives in Geneva (TRIAL) with the Human Rights Committee, November 2015
Follow-up report to the Human Rights Committee, December 2015
Numerous letters sent to Human Rights Unit of the Office of the Prime Minister, Ministry of Law and Justice, National Human Rights Commission, Office of Attorney General, Ministry of Peace and Reconstruction in May and June 2017
Follow-up report submitted to the Human Rights Committee, August 2017
Joint- follow-up report submitted to the Human Rights Committee, October 2018
Collective Follow-up report to the Human Rights Committee, February 2021